Meet The Staff
Clementien, President of Karuna Society. She wears many hats and is constantly striving to improve Karuna's quality care for animals and to defend their rights. She also looks for new ways of alternative and organic farming to make Karuna more self sufficient. Her vision is the Divine Unity in all reality that binds humans, animals, nature and the universe together.
Romula, Vice President of Karuna. She is responsible for the sale of our organic produce in the Karuna shop, which also acts as our information centre about animals in Puttaparthi, Karuna's activities and a place to report sick animals. Romula also teaches animal welfare in schools. She is assisted in the shop by Muni.
Narendra on the right, is the Secretary of Karuna Society. He is responsible for all local community matters between Karuna, local authorities, farmers, and the general public. He attends court cases related to our rescued animals and he manages special project like construction, the organic garden, agriculture and the adoption of rescued bulls by the local farm farmers.Radha Krishna, on the left, is the General Manager. He also looks after all legal matters like income tax, applications etc., as well as overseeing all the accounting for Karuna.
This is V. Bhaskar who is Narendra Reddy's assistant.  He is responsible for keeping all the staff and accounting records up to date.
OUR INCREDIBLE WORKING STAFF
Our dedicated team of operation assistants who also do pre and post operative care for sterilization and surgeries as well as general kennel maintenance and dog catching.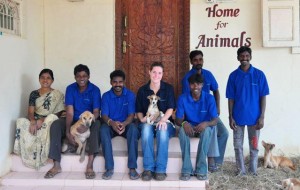 Volunteer veterinary doctor from Holland. Our 'small animal' clinical staff consisting of our main attendants Narasimha and Venkatesh with their helper attendants including our cook Gangamma.They take care of all the animals that are admitted as well as those that become residents at the small animal clinic. This includes all inpatients, outpatients and disabled animals like dogs, cats, birds, monkeys and snakes.
P. Narasimha and his team are in charge of the old and sick cattle at the large animal hospital which includes cattle, buffalo, donkeys, camel, horses and goats. He is assisted by his staff who nurse the sick ones, cut the grass, feed the animals and clean up. This is very labour intensive work.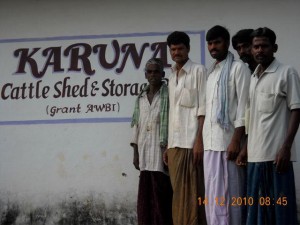 Cattle workers that take care of the approximately one hundred and fifty rescued cattle that are now permanent residents at Karuna.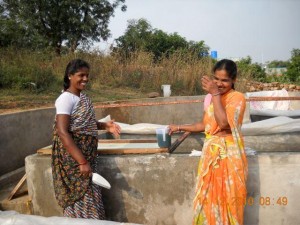 Shantamma and Poorna who prepare the fresh spirulina for the shop and make all other products like peanut butter, spirulina and pesto. They also help in the garden with the salad plantation.
Sai Nath and his two helpers, Chinnagamma and Padma, take care of the organic garden which provides fresh organic vegetables to the shop everyday.
This is Narendra, a well trained animal handler responsible for the daily care of the rescued bears, deer, stork and other wildlife. He is assisted by the night watchman who helps also in the morning. Medical responsibilities for wildlife is carried out by Veterinary Doctor Srinivas.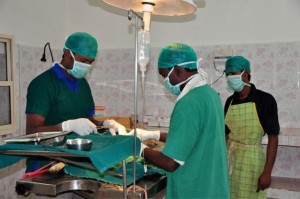 Dr Srinivas, in the middle, who does part of the dog sterilizations.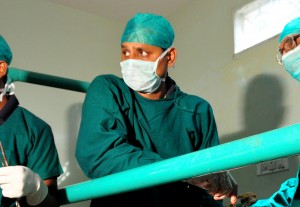 Dr Narendra Reddy who is the Veterinary District Surgeon.