Volunteer
INTERESTED IN VOLUNTEERING?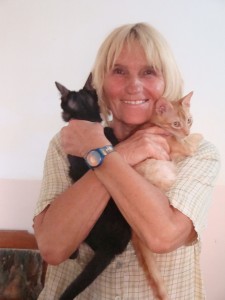 Our work is largely possible because of our volunteers, and anyone is welcome to help us personally in this heart-warming job. Due to our experience in receiving volunteers, we ask:
minimum of 1 month  commitment




full-time availability




responsibility for own expenses




anti-rabies immunization
We will be glad to provide all the information needed for traveling and staying in Puttaparthi. Contact us before you come, telling us something about yourself, your experience in working with animals, and how you think you can help us and for how long.
ONE DAY AS A VOLUNTEER AT KARUNA
Dorothea and Barbara, two young volunteers from Switzerland, share with us their experiences of a typical day at the Karuna clinic.
Our day starts in the morning at around 8am. When we arrive at the clinic, five or more dogs are already outside, waiting for their breakfast and giving us an enthusiastic welcome. Making our way through the gate is like an obstacle race with all the hopping and wriggling legs, barking and wagging tails. Finally inside, we get yet another warm welcome from ten more dogs. They are all trying to get some attention from us. We are as happy to see them as they are to see us. After spending some time stroking and scratching the dogs, we start to check up on the more critical patients. What is their temperature? How do they look and what happened during the night? If there is something special going on, we report it to Clementien or the clinic attendant, Venkatesh.
By this time the workers are finished with cleaning the kennels and so the feeding takes place. Of course we can help with that as well! Around 25 hungry dogs wait impatiently for the bowls to be filled with warm rice, milk and vegetables. Together with the staff we make sure that all the dogs get their food, settle small fights and keep a close eye on the critical patients to check if they are eating. Some dogs also need special feeding with puppy milk.
After the morning routine work is done, the treatment starts, and there is a lot to do! We can help with making new bandages, taking care of wounds, preparing injections and drips, cleaning eyes and ears, and taking out ticks or giving tablets. Several dogs need special treatments. For example Maya, a female dog who became paralyzed overnight was brought into the clinic. We would help her by giving her massages with Ayurvedic oil and helping her to stand on her back legs. She is improving day by day, and we hope to see her walking again by the time we leave
Between treatments of inpatients, many dogs from outside need our help as well. Mostly they arrive at the clinic because they are not eating, are vomiting or coughing. Others have maggots in their wounds, infections in the ears or many other smaller or bigger problems. It is always a very good feeling to know that we could help an animal in its suffering! The outpatient work also includes writing down information about the treatments, the dog and the owner, which is sometimes quite complicated because of our missing language skills. However, somehow we always managed!
Without noticing and with all the interesting work, noon comes around very fast and so we leave for lunch. After a long relaxing lunch break, we are back at the clinic at 3pm for the afternoon work: feeding puppies, treating the in and outpatients, making sure that all the dogs are well, checking the cats and so on.
At 4.30pm it is time for feeding again, and finally, when the day comes to an end, every dog wants to go to its own sleeping place. We help the paralyzed dogs to their straw beds, inside or outside the clinic, or even in their own basket. Before we leave, we make sure everyone is alright and  we wish them a good night after which, we get a thankful look. At 6pm the day is over, and we go home, tired but with many new experiences and the knowledge that we definitely used our energy for a good cause!
IF YOU ARE INTERESTED IN MAKING INQUIRIES ABOUT VOLUNTEERING, PLEASE CONTACT US VIA EMAIL AT:  karunasociety@gmail.com