Hospital for Large Animals
In a world where animals are treated like property, owned as milk producing machines, and are food for humans, Karuna is taking the side of the animal in its need for protection, medical care and shelter.
Karuna's cattle hospital at Enumalapalli is the most recent development that was created due to the needs of the Cattle Rescue Project which started in 2002 with the rescue of illegally transported cattle on the way to the slaughterhouse. Good working bulls, milking buffaloes, and local cows are sent for slaughter for minor health disorders as the much-needed basic veterinary care is not available at the local government hospitals.
The construction of the Cattle Hospital started with a grant from AWBI and the Karuna Inpatient Clinic was completed by further donations in 2009.
Presently, inpatient and outpatient care for cows, bulls and buffaloes that are brought in by the local farmers is provided free of charge.
Karuna's own rescued cattle receive excellent medical care and ongoing nursing when they grow old or are disabled. They are cared for until they die a natural and peaceful death at the hospital.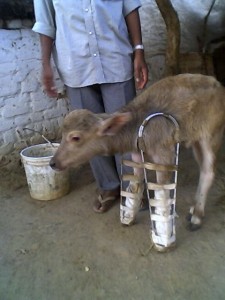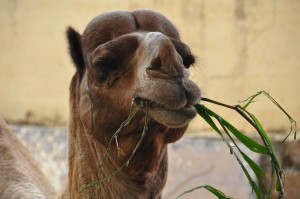 Our resident camel rescued from illegal slaughter
Within Karuna's compound, a permanent home is also given to rescued and/or disabled donkeys, horses and a camel that was rescued from illegal slaughter.
Karuna actively supports a ban on plastic bags as plastic creates many environmental  problems, not only for animals.
Because of this huge problem, Karuna has begun performing surgeries (rumenotomy), to remove the load of plastic from the cow's stomach to help restore normal digestion so that they can return to eating and digesting grass again.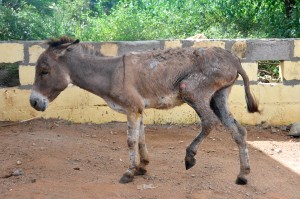 Abandoned, injured and sick donkey undergoing medical treatment and care
Sick cow receiving fresh grass and care
Donkey and cow in recovery sharing the fresh fodder

Cow with broken leg in splint