Wildlife Rescue Centre
After the registration of Karuna Society for Animals and Nature in September 2000, the first wild animals in distress were brought by the Forest Department to be cared for by Karuna.
Permission to receive, treat and release wildlife was received in 2001. At that time however, special medical care and separate facilities were not available.
In 2002 a 5-acre plot near Puttaparthi was established as a Wildlife Rescue Centre.
Over the years Karuna has improved the facilities according to the rules and regulations of the Indian Central Zoo Authority and so received conditional permission for the lifetime care of six Sloth Bears and ten Bonnet Macaques.
Other animals like Black Buck, Sambar Deer, Spotted Deer, snakes, birds and any other wild animal are relocated or released after treatment in coordination with the District Forrest Officer of Anantapur.
Karuna's Wildlife Rescue Center is the only facility within hundreds of kilometers where wild animals can receive the much needed medical treatment and shelter. Due to the regular droughts, animals search for food and water in the villages and water tanks, which incites violent attacks by the villagers. Loss of habitat, caused by the destruction of the forest and poaching are also problems for wildlife here.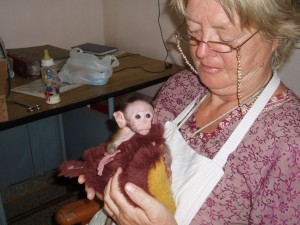 Sloth bears are killed when they enter the fruit plantations deep in the forest, where man is the encroacher, not the animal.
Sloth bear cubs are taken from the mother for trade and hunting which takes its toll for all wild animals in the area.
Monkey's are mostly living in the villages instead of the forest and suffer from electrocution by live electric wires.
Many these animals find their way to Karuna's Wildlife Centre.
Karuna's Mission for Wildlife
To act as a rescue center for all orphaned, seized, rescued and injured wild animals.
Providing first aid to injured animals that are released back into the wild after a full recovery.
Our focus will be on rehabilitation and conservation.
Karuna's Future Plans for Wildlife
To build a new rescue centre close to the forest away from human habitat. This new facility will be named "Karuna's Kindness Wildlife Sanctuary" and will consist of more than 10 acres adjacent to the reserve forest of Bukkapatnam.
Click here – Wildlife News

 – to read the latest rescue stories.
Click here to view/download the WildLife Master Plan for our existing centre.